A statistical analysis report focusing on students with learning disabilities showed INCREASE TEST SCORES of 70%-84% when using the Times Tales® Method.  CLICK FOR REPORT
We know that Times Tales® works...even when other programs have failed! If Times Tales® doesn't work for your student, simply return it within 30 days! CLICK FOR REFUND POLICY


 Times Tales® is a mnemonic-based  program that teaches students to use memory cues for quick and effortless recall of the upper times tables. This program is truly one-of-a-kind with our innovative "Six-Step Times Tales® Method" to multiplication mastery.
Our program has been used by tutors, home educators, special education instructors and teachers for the past 20 years. This right-brain method to mastery is not only a fun and effective way to memorize the times tables, but will also give your students a learning tool that can be used for a lifetime. 
Times Tales® covers the most difficult to memorize times tables (and corresponding division facts): 
3x6, 3x7, 3x8, 3x9, 4x6, 4x7, 4x8, 4x9, 6x6, 6x7, 6x8, 6x9, 7x7, 7x8, 7x9, 8x8, 8x9, 9x9

✅  The founders believe the high success rate of students' ability to remember the stories is a result of focusing only on the core 18 upper facts that most children have to memorize. Many of the very first Times Tales® students still remember ALL the stories, almost 20 years later!
✅  IF we included ALL of the facts for the multiplication chart 1-10 (ie: 2x3, 4x4, 1x9), the total number of stories that the student would need to retain would be 54, instead of 18 which is currently in our program.
✅  Times Before the Tales is an E-Workbook which focuses on the concept of multiplication and practice of the lower times tables. This is a great workbook for students to start before moving on to the upper facts in the Times Tales® program!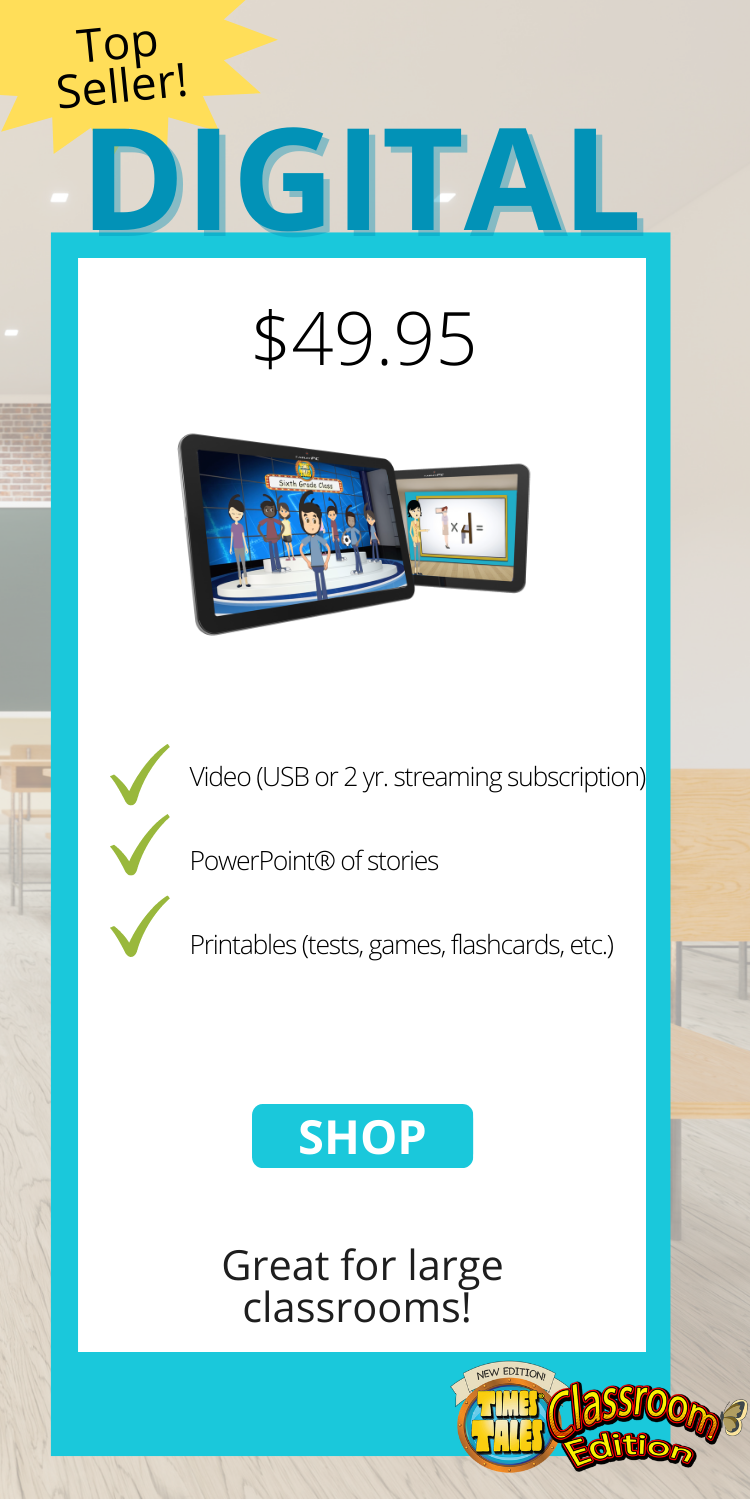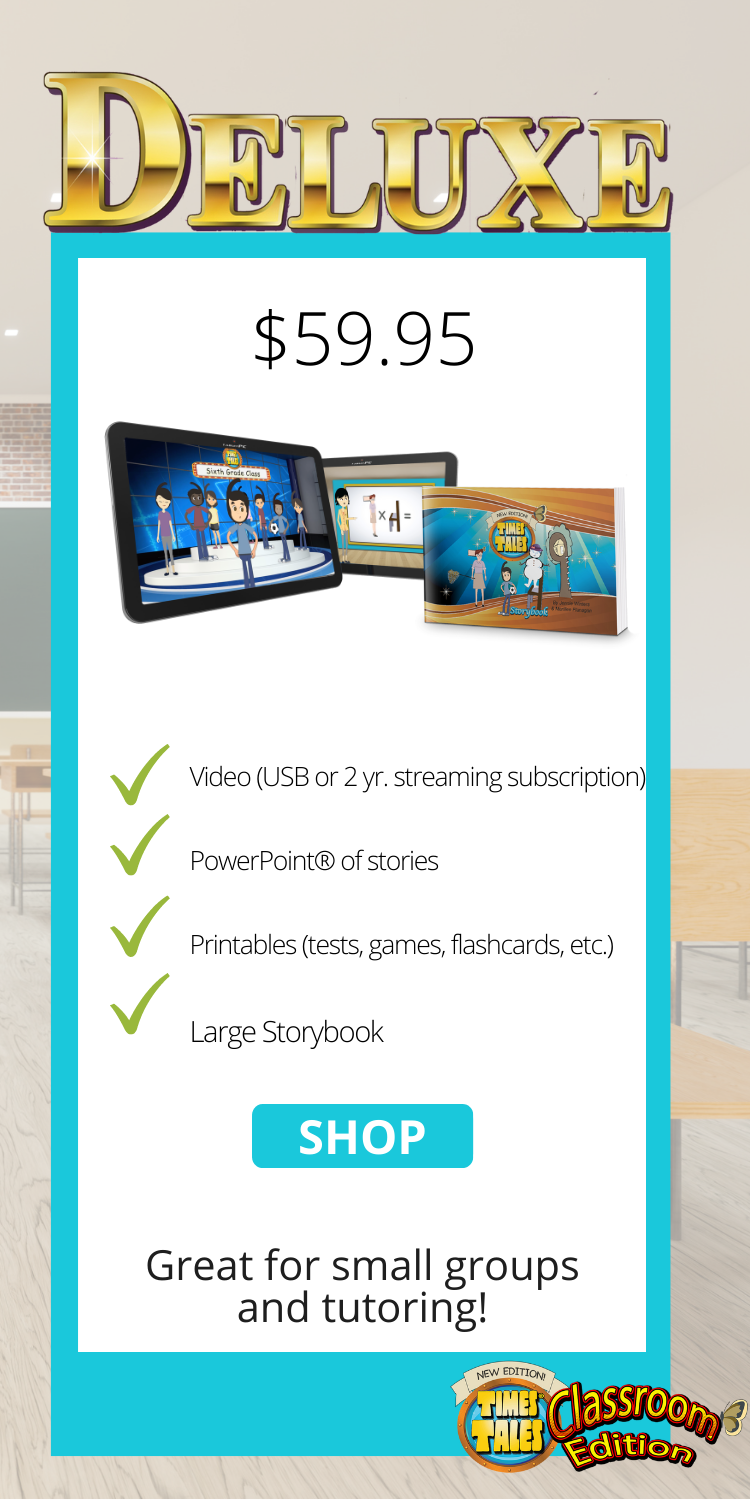 WOW!!!
"I am a Special Education teacher with 37 years of experience. Of ALL the programs and strategies I've tried, this one has been the best!!🤩 What a difference this program has made in my classes!"
⭐️⭐️⭐️⭐️⭐️ 
Worth Every Penney
"I have been using the same program I bought several years ago for my classroom. Definitely worth the money, but more importantly the time it will save teaching the "dreaded uppers"." 🙌
⭐️⭐️⭐️⭐️⭐️
Times Tales Scores a Home Run! 
"I am a retired teacher, who tutors struggling math students. I racked my brain trying to offer various methods to help students memorize their multiplication tables. Someone told me about Times Tales--it's been AMAZING to witness students learn up to 10 new facts in a single session! The short, visually-cued stories really make a difference!"
⭐️⭐️⭐️⭐️⭐️
Special Education Teacher
"My students were able to learn their upper multiplication facts quickly, within 2-3 weeks, and enjoyed doing this."
⭐️⭐️⭐️⭐️⭐️
If you have any questions, please call our Customer Care team Mon. - Fri. at (541) 969-2754 (PST).
Email: triggermemory1@gmail.com
Mail Orders:
Trigger Memory Co.
P.O. Box 361,
Pendleton, OR 97801
Need a W-9? CLICK HERE
Please calculate shipping for purchase orders using the shipping rates below:
  $     .01 - $ 12.99        $  4.95
  $ 13.00 - $ 29.99        $  6.95
  $ 30.00 - $ 79.99        $  8.95
  $ 80.00 - $129.99       $11.95
  $130.00 & Up             $20.00