"We would not be around today if it wasn't for all the wonderful customers telling others about our product."
Founder ~Jennie Winters
Watch a 5 minute webinar of the founders teaching The Times Tales® Method to a large audience of students. You'll be AMAZED when you see the students shout out the answers after only 30 minutes of instruction. 😳 
Read More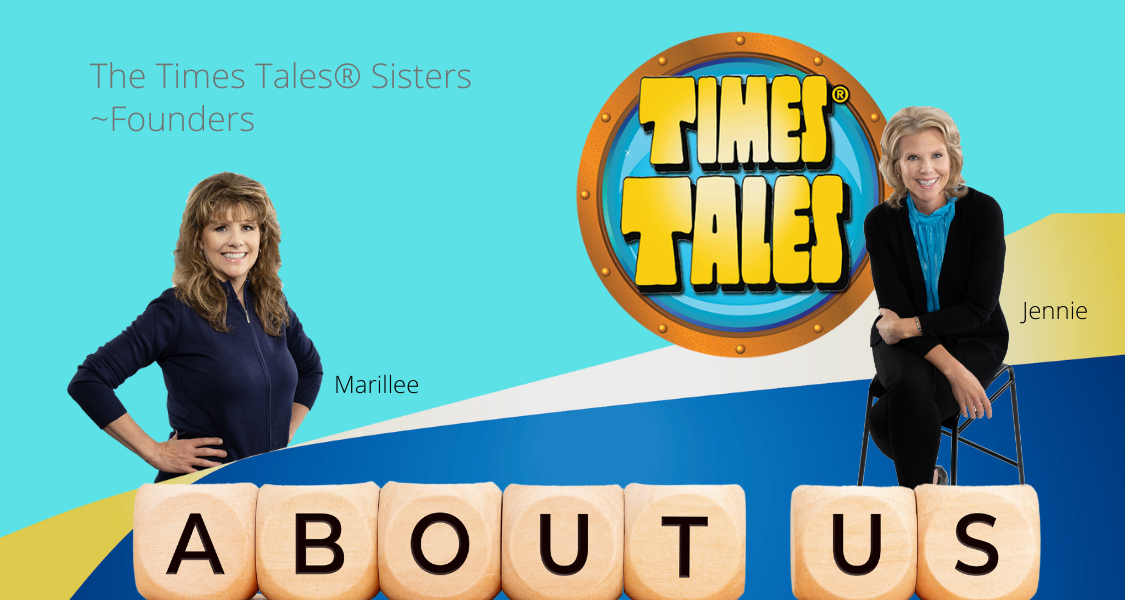 Wonder how Times Tales came about? Great question! Times Tales is actually the brainchild of Jennie Winters. While Jennie was teaching her two boys the times tables, she noticed they were having a difficult time, consistently struggling with certain problems. Answers for the lower, easily calculated facts weren't a problem, however, the upper times tables just wouldn't stick. To overcome this problem she incorporated a commonly used memory tool called mnemonics and transformed the higher facts into a memorable story. It worked! Her boys were able to memorize all the facts in record speed and with minimal effort to boot! Even with very little review, her boys could recall the stories months later! Jennie was so impressed she joined with her sister Marillee and another partner to fully develop what has now become Times Tales. 
After they developed the first few stories it was time to test it. The "guinea pig" was Marillee's oldest daughter Meagan, who was 7 years old at the time. Once again, Times Tales came through and Meagan memorized all the upper times tables in less than an hour! She also could repeat them even weeks later. They knew their program was something that could really help students, especially because the times tables are so critical to learning any type of math.
 Because Jennie and Marillee each had four kids all under the age of nine years old creating Times Tales was no easy task. In fact many times their work was interrupted by mealtime, homeschooling, or naps. Jennie who at the time lived on the other side of the U.S. would come and stay with Marilee for a couple of weeks and brainstorm product ideas, sometimes late into the night. In fact, they had such a small beginning that the first couple of Times Tales Flip-books were saran wrapped. There were also many family pizza-parties centered around putting together the Times Tales flip books. After they got a couple of the flipbooks put together with the instruction manuals they decided it was time to test the waters. In 2003 they listed the first edition of Times Tales for sale on Ebay. It sold right away! They were ecstatic that the program they had put so much thought and time into was something that someone else might need. They quickly created a company that you know today as Trigger Memory Publishing. Over the years Times Tales has provided enough of a second income that Marillee and Jennie were able to stay at home and homeschool their kids. It has also allowed more quality time spent between the two sisters. 
Once the product was put on the market, countless reviews of how Times Tales had not only helped average students but students with learning disabilities, especially dyslexia! Because Times Tales had a whole new approach to learning the multiplication facts, it seemed to work with students that were out of options. Even though Times Tales was not created specifically for students with learning disabilities, the sisters realized how helpful it was after receiving countless reviews from amazed parents and teachers. Times Tales is even endorsed by Susan Barton, founder of Bright Solutions for Dyslexia. 
Even though Times Tales had a very humble beginning, Marillee and Jennie are so  blessed to see how Trigger Memory Co. has evolved into an creative-learning educational publishing company. They now have several versions of Times Tales including the DVD, Workbook, Digital Download and even an app! In 2020, they launched their new workbook called, Pet Math(grades 3-5). This fun, math workbook is a practical, real-life application to math that includes various day-to-day scenarios with owning a pet. Trigger Memory Publishing has become increasingly popular with parents, teachers, tutors and students and is sold all over the world. Those who have used Times Tales can't say enough about how well it  has worked for them, often when all other programs failed.
Marillee and Jennie would like to encourage other stay-at-home-moms who have creative ideas to take a chance and turn their idea into a reality! Sometimes pursuing your dream can not only create an additional income, but help so many others. When they were originally brainstorming the idea of Times Tales, one of their husbands even laughed at the absurdity of the characters "Mrs. Week" and "Mrs. Snowman". Needless to say, he is not laughing anymore. 
Learn more about Jennie and Marillee's journey of running a business, homeschooling and family on their Teaching with a Twist Podcast!