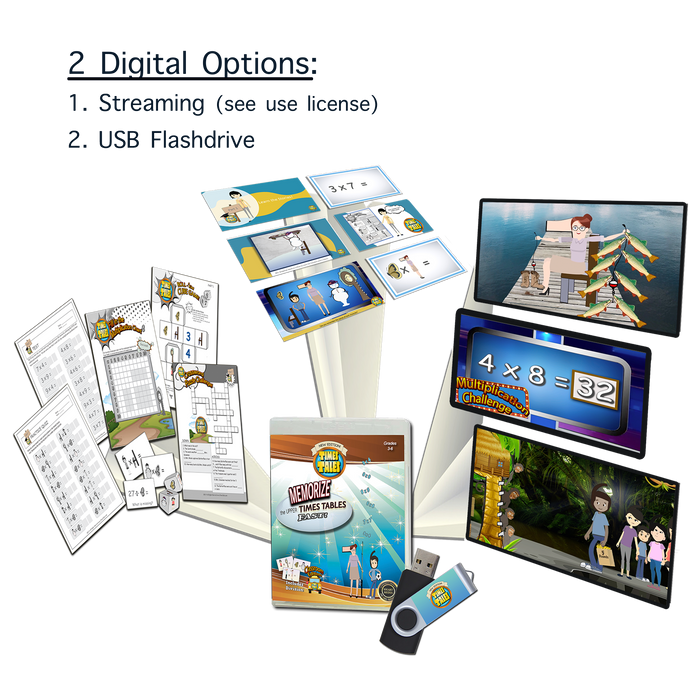 Teacher Trial Version- Includes: Full Times Tales Video & Classroom Printables
Original price
$49.95
-
Original price
$49.95
30 Day FREE Teacher's Trial Edition
Try out the full  the full edition of Times Tales with your students with this free 30 day trial. Since most students master the upper times tables in 2 weeks or less, you will be amazed at how fast your students will have mastery of the most difficult multiplication facts! 
Times Tales® Classroom Digital is designed for classrooms and small groups of more than 5 students. 
✅    Reduces classroom instruction time and increases tests score! CLICK to read an independent statistical analysis report on the effectiveness of Times Tales®.
✅ Covers the most difficult to memorize times tables: 3x6, 3x7, 3x8, 3x9, 4x6, 4x7, 4x8, 4x9, 6x6, 6x7, 6x8, 6x9, 7x7, 7x8, 7x9, 8x8 8x9, & 9x9

✅ Uses the award-winning Times Tales® Method- Most students still remember the answers to these core facts even years later!
✅ Bonus Division - Corresponding division facts for ALL the Times Tales® Stories!
✅ Video does the teaching - Review segments after each step in the video for instant feedback to proceed or repeat the step again.
✅ Includes non-consumable printables & PowerPoints®: tests, crossword puzzles, flashcards, practice multiplication chart and the Roll Em' Game.
✅   Endorsed by nationally recognized dyslexia expert Susan Barton! READ MORE
Times Tales® Classroom Video Includes:
Times Tales® Classroom Video

 

- Choice of: digital streaming or USB. 
Teacher Instructional Video
Printable Reinforcements

 

– Flashcards, Quizzes, Tests, Student Booklet. Large Storybook, Multiplication Chart & Game Cube
PowerPoint® Slides
Student Certificates of Achievement
*Digital streaming license is good for 2 years from purchase date.
 Additional Information:
Times Tales® digital streaming products are

licensed for 2 years

.
Times Tales® USB is non-consumable and can be used year after year.
Classroom editions MAY NOT BE SHARED between classrooms. They are licensed for use with ONE teacher, in ONE classroom. CLICK for Terms of Usage.
Instructors may share our products with their students through the internet (via email) through a password protected site.
You will receive immediate access to digital files at checkout. You can also create an account using your order email to access all your digital files.
Physical products will be shipped within 1 – 2 business days.
We always offer a 30 Day Money Back Guarantee.
Times After the Tales is the last segment to multiplication chart mastery. The beginning of this workbook teaches tricks and mnemonics to compute the answers for the 11's and 12's times tables. The second part of this workbook introduces application of the facts with two-digit by one digit multiplication.
Times Tales Workbooks
(Can be added on drop-down menu)