How do I sign up?
#1. Fill in the Workshop Registration form (CLICK or scroll below).
#2. Once you submit the registration form you will be directed to the payment page. Cost: $75 per student 
*Families with more than one student attending will receive a discount. If this applies to you, please register each student but DO NOT pay. We will send you an invoice with the family discount.
Each student will receive our Times Tales Deluxe during check-in on Nov. 18th.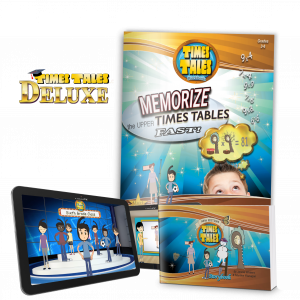 The Deluxe is included with the workshop! (retails: $39.95)
Times Tales digital streaming video 
Times Tales student story book
Times Tales workbook (104 pages). 
Where is this workshop located? The workshop will be located in Honolulu with the address still to be determined based upon the size of class registration. We will email you one week in advance of the address once it is determined and any special instructions for the workshop.
What is involved in the workshop? The class will be approximately 2 hours long. We will teach through Part 1 of the Times Tales®  program which covers eight of the Times Tales® stories (3x6, 3x7, 3x8, 3x9, 4x6, 4x7, 4x8, 4x9). 
What materials will my child receive for attending the workshop? Each registered student will receive a Times Tales® Deluxe (retail value: $39.95)  which includes: the Times Tales® video streaming, the student storybook and the Times Tales® workbook (104 page). Students will receive their materials at the time of check in on Saturday.  
After the students learn the Times Tales® mnemonic method for memorization, they can continue Part 2 of the program (includes facts: 6x6,6x7, 6x8, 6x9, 7x7, 7x8, 7x9, 8x8, 8x9, 9x9) with the materials they take home. We recommend continuing practice of the materials for Part 1 (which will be learned in the workshop) for one week before introducing the new set of facts in Part 2 of the program.
I am a teacher at a public school, can I attend to observe how this is taught? We realize there are many educators that can benefit from using Times Tales® with their students, or may just want to see how our program works. You are welcome to come and observe the class for free. You will still need to register, as we have limited space available. 
What are the ages that children can attend? Registration is for children ages 7-12.
If I have more than one child attending can I get a discount? Yes, we can provide a special coupon discount code for families with more than one child attending. If you are going to have more than one child in attendance, please wait before making a payment so that we can email you a discount code that you can use during checkout.
Can I drop off my child and pick them up when the class is over?  Each registration will require to check in 10-15 minutes before the workshop begins, which includes a signed parent consent form and emergency contact number. Once the student is checked in, they are welcome to leave for the duration of the class. Parents are welcome to observe in the back of the class if there is space.
How long is the workshop? 
Check-in time is 8:45 a.m.

Workshop starts at 9:00 a.m. and will end at 11:00 a.m.
Students will receive their Times Tales® materials at the time they check-in. Feel free to ask our instructors any questions before the workshop begins.
Who will be teaching the workshop? The workshop will be taught by family of the founders of the Times Tales®  program. They are both certified Times Tales® instructors.
CLICK TO READ MORE about the story of Times Tales®  and how it was launched by two homeschool moms over 20 years ago.
Please do not hesitate to contact us with any questions through our website chat, email or customer service phone number.
We look forward to meeting you!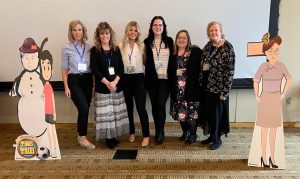 The Times Tales®  Team
Triggermemory1@gmail.com
Customer Service: Call or Text: (541) 969-2754 
Mon.- Fri. 9:00 AM - 5:00 PM (PST)

 Times Tales® is a mnemonic-based  program that teaches students to use memory cues for quick and effortless recall of the upper times tables. This program is truly one-of-a-kind with our innovative "Six-Step Times Tales® Method" to multiplication mastery.
Our program has been used by tutors, home educators, special education instructors and teachers for the past 20 years. This right-brain method to mastery is not only a fun and effective way to memorize the times tables, but will also give your students a learning tool that can be used for a lifetime. 
Times Tales® covers the most difficult to memorize times tables (and corresponding division facts): 
3x6, 3x7, 3x8, 3x9, 4x6, 4x7, 4x8, 4x9, 6x6, 6x7, 6x8, 6x9, 7x7, 7x8, 7x9, 8x8, 8x9, 9x9

✅  The founders believe the high success rate of students' ability to remember the stories is a result of focusing only on the core 18 upper facts that most children have to memorize. Many of the very first Times Tales® students still remember ALL the stories, almost 20 years later!
✅  IF we included ALL of the facts for the multiplication chart 1-10 (ie: 2x3, 4x4, 1x9), the total number of stories that the student would need to retain would be 54, instead of 18 which is currently in our program.
✅  Times Before the Tales  Workbook  focuses on the concept of multiplication and practice of the lower times tables. This is a great workbook for students to start before moving on to the upper facts in the Times Tales® program!
✅ Times After the Tales  Workbook uses tricks and mnemonic stories for mastery of the 11's and 12's times tables.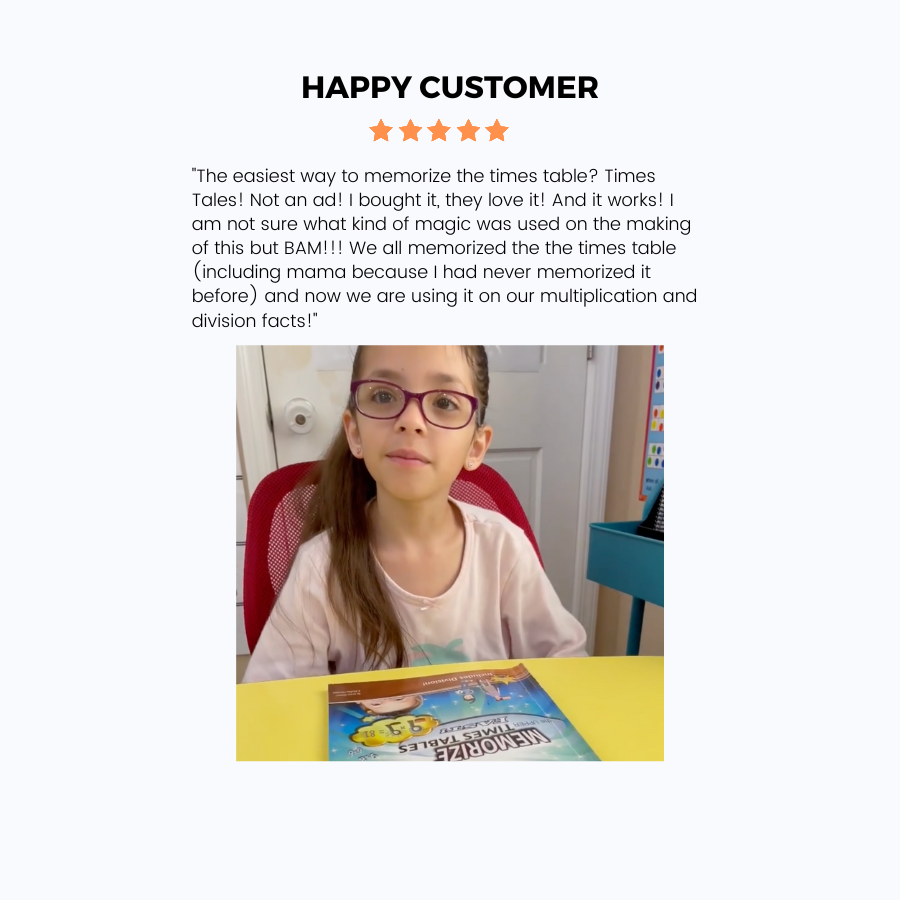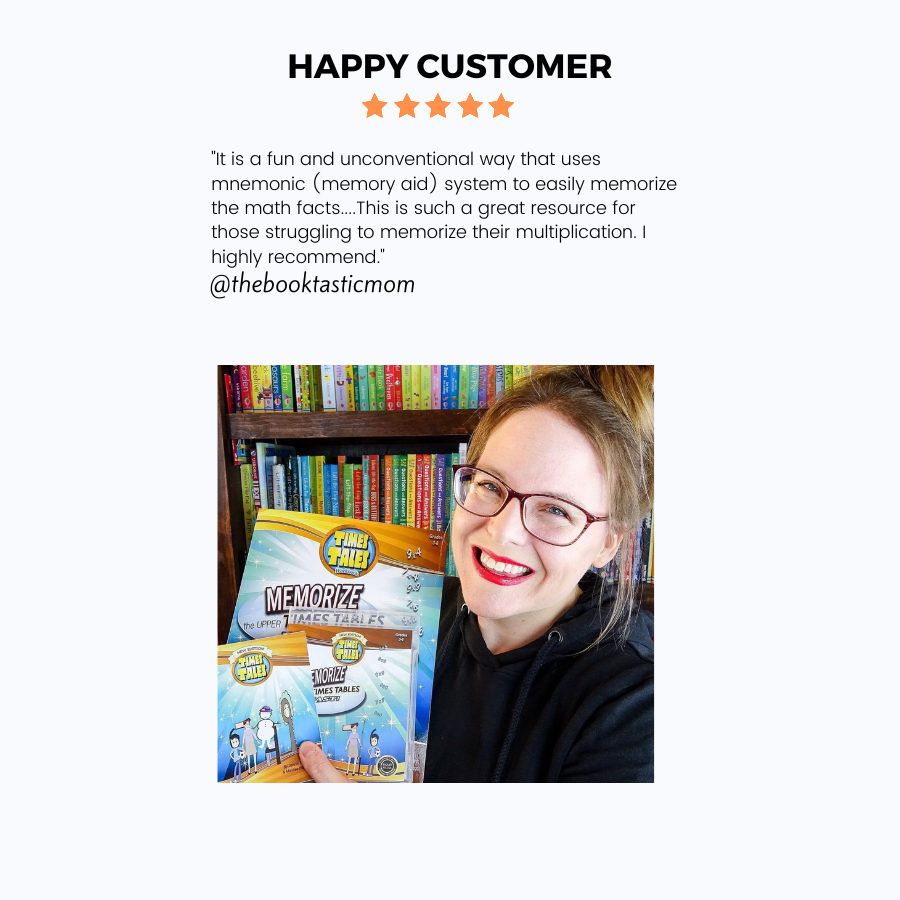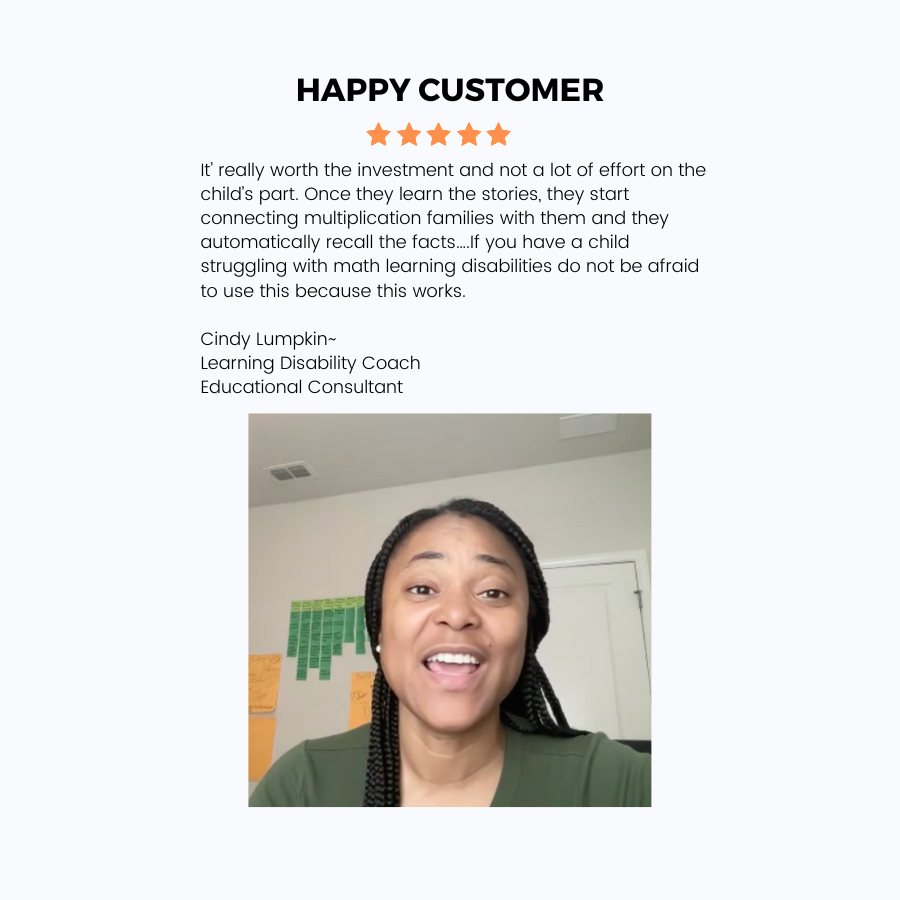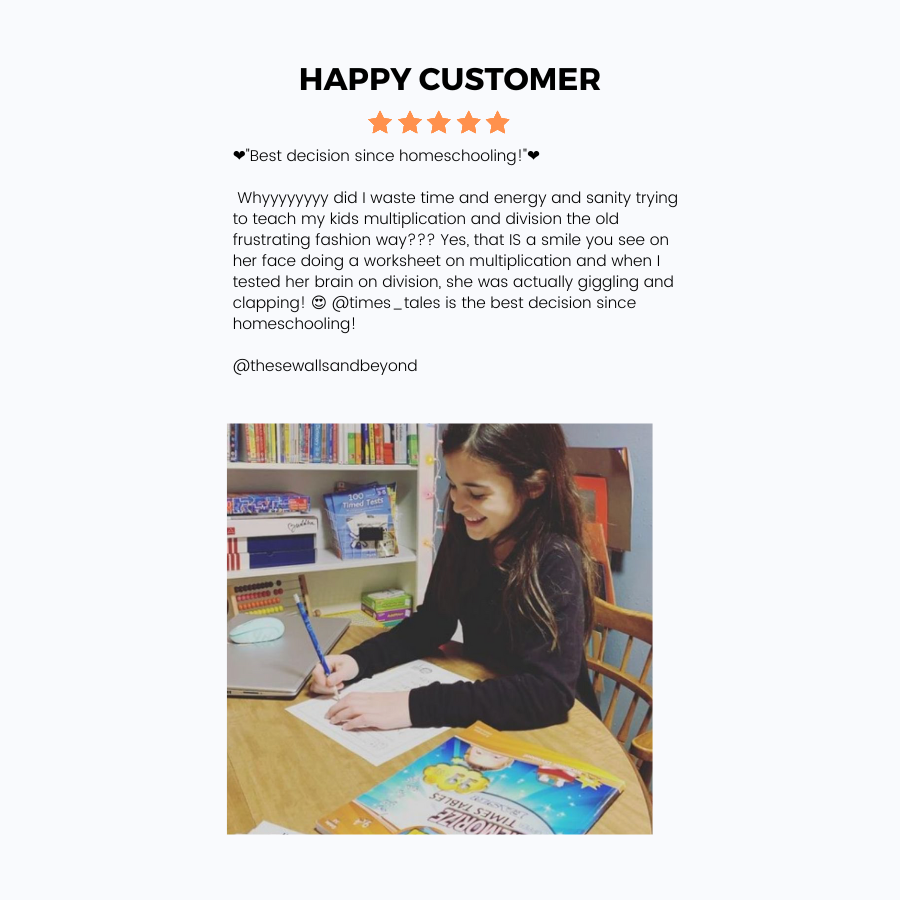 If you have any questions, please call our Customer Care team Mon. - Fri. at (541) 969-2754 (PST).
Email: triggermemory1@gmail.com
Mail Orders:
Trigger Memory Co.
P.O. Box 361,
Pendleton, OR 97801
Need a W-9? CLICK HERE
Please calculate shipping for purchase orders using the shipping rates below:
  $     .01 - $ 12.99        $  4.95
  $ 13.00 - $ 29.99        $  6.95
  $ 30.00 - $ 79.99        $  8.95
  $ 80.00 - $129.99       $11.95
  $130.00 & Up             $20.00