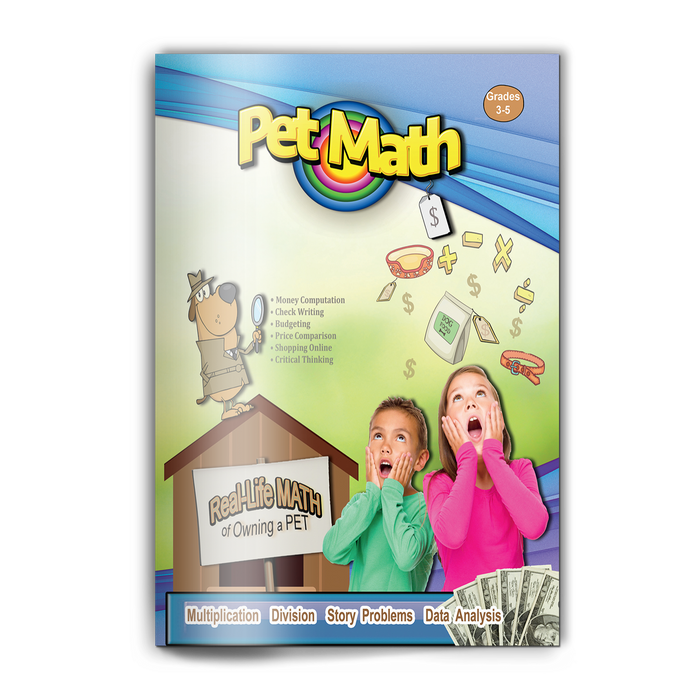 Pet Math Workbook - Real-Life Math of Owning a Pet (Grades 3-5)
Original price
$12.95
-
Original price
$12.95
Pet Math is a fun way to get kids, especially those who LOVE pets, engaged in math by using real-life pet responsibilities.
Each lesson offers the student a different day-to-day scenario in which mathematics can be applied to figure everything from the cost of dog food, to veterinarian bills. This is a great way to demonstrate the practical application of math with something kids love...pets!
Pet Math Workbook includes three fictional pet-related business pamphlets. These fun, colorful pamphlets are incorporated throughout the lessons for the student to research and calculate the costs of various pet-related activities such as buying pet food, grooming and veterinarian bills.
Real-Life Applications:

Money Computation
Check Writing
Budgeting Money
Discount Shopping
Price Comparison
Shopping Online
Critical Thinking
Math Skills Covered:
Area & Perimeter
Data Analysis
Story Problems
Charts & Graphs
Greater Than Lesser Than
Multiplication
Division
This 70 page workbook includes: 31 pet related applicable math lessons, two online price comparison activities, 30 problem review test, fun comic strip math decoder, and three fictional, pet business pamphlets to be used throughout the workbook. This is a consumable product. 
We always offer a 30 Day Money Back Guarantee on our products!