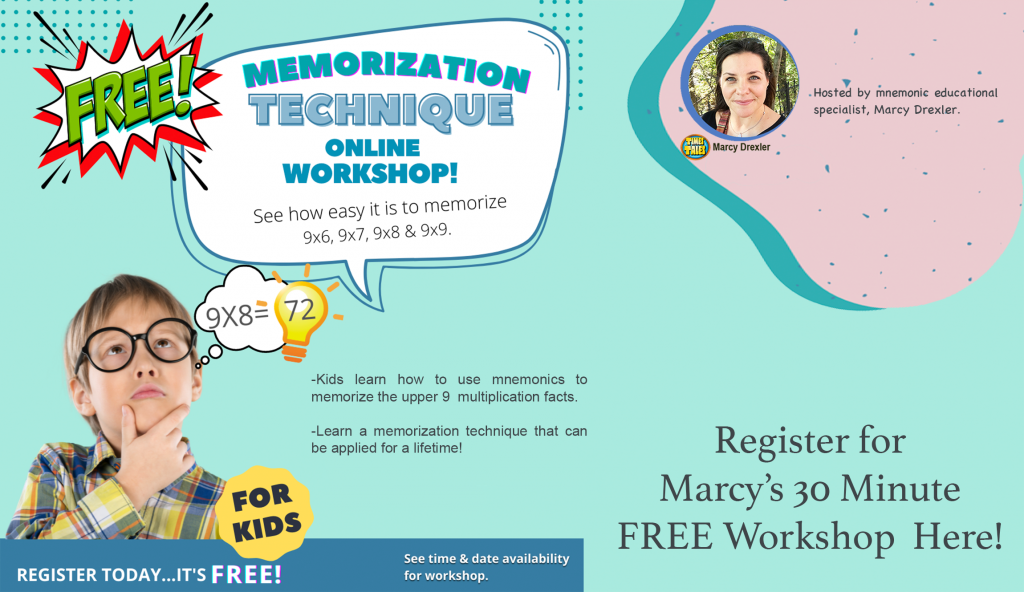 This
Workshop Teaches Kids How to Use Mnemonics to Memorize!
In the first part of this 30 minute FREE online workshop, Mrs. Drexler will demonstrate the power of using visual memory cues with the "Memory Room Trick".  Students will be able to show their friends and family this amazing trick for memorization and quick recall of information.

In the second part of the workshop, Mrs. Drexler will guide the students through a 6 step mnemonic-process to effortlessly memorize 9x6, 9x8,9x8 and 9x9. 

After this workshop, your child will not only have the upper nine times tables memorized, but will have learned a  tool they can use for a lifetime!
*Workshop is hosted on the Zoom platform. Once your child is registered, you will receive an email with link to enter the workshop. We ask that all students keep their mics on "mute" during the class. Feel free to contact Mrs. Drexler if you have any questions : Marcy(at)timestales(dot)com
SEE BELOW FOR AVAILABLE DATES AND TIME: